Starting a daycare business can be both rewarding and stressful at the same time. The first question new business owners often have once they've decided to open a daycare is, "Where do I start?" At times, the list of things that need to be done can seem miles long. However, this does not have to be a stressful venture! We have put together our checklist for the steps you need to take to open your new daycare business.
The process of starting a new daycare business includes:
Create Your Business Plan and Vision
Research Local Requirements for Licenses and Permits
Decide on Location for Your Daycare
Invest in Business Insurance
Decide on Your Rates
Purchase Your Supplies
Hire Additional Caregivers
Develop Policies for All Employees
Invest in Advertising to Grow Your Business
Create Your Business Plan and Vision
The first step in starting your daycare business is creating your business plan and vision for your new business. Your business plan will serve as a road map during the process of starting and operating your daycare business. We recommend completing this first because it gives you a bigger picture of what starting your business will be like.
Your business plan should include a description of your business, a review of your target market, facts about the amount of competition in your area, a list of your services, the cost of operating your business and a description of your marketing strategy. When someone views your business plan, they should be able to get an overview of what your business consists of.
Creating a business plan is essential for starting your new business because it puts a plan in place. By researching your market and competition, you will be able to make more knowledgeable business decisions. You will also be aware of the costs you will likely run into as you open your new business.
A business plan will also be required if you plan on seeking finances to start your new business, whether that is through business grants or loans. You will often not be approved for any type of financing if you can't provide a business plan. A financial institution will want to see the research and statistics for your business before they provide you with funds.
Along with your business plan, we recommend writing out your long-term vision for your new business. Ask yourself where you see your business in 10 years. Do you want to grow it to a larger organization, or do you want to remain a smaller, more private daycare? What specific goals do you have for your business?
We believe taking the time to write out your vision for your business is important because it gives you an overview of where your business is going. It can be easy to get caught up in the daily tasks of operating a business, but you can refer to your vision to remind yourself of the overall goal you're working towards. Your vision will give you the boost of motivation when you need it the most.
Research Local Requirements for Licenses and Permits
Once you've got the first draft of your business plan and vision in place, it is time to research the local requirements for licenses and permits in your area. Every area will be different regarding what they require from you in order to open a new daycare, so it is essential that you take your time to do the research!
To see what your specific area requires, we recommend visiting your state's Division of Childcare Services or the department closest to this in your area. This department will provide you with a full list of the requirements you must obtain in order to open a daycare in your state. If you have any confusion about what is required in your area, we always recommend taking the time to ask questions. You want to ensure you have a clear understanding.
Some areas may require the main caregiver to have a certain amount of experience in caring for children or may require you to receive certifications related to childcare, like being certified in CPR as an example. In some areas, they may also have certain requirements when it comes to safety and the physical setup of the daycare business.
It is essential that you research the requirements in your area before moving on to further steps because you will often need to provide proof that you've met all the requirements before you can successfully apply for your business license or start accepting clients!

Decide on Location for Your Daycare
Once you have a clear understanding of what's required in your area, you need to decide where you want to hold your daycare business. This can either be in your own home or in a commercial building that you will be renting.
When a new daycare business owner first opens their daycare and only has a few clients, it is common for the daycare to be held in the owner's home. This is an excellent way to keep your costs down while your business is still growing, and your funds are limited.
If you are debating on holding your daycare in your home in the beginning, you need to first analyze how much space you have. In order to properly care for children, you need to have a big living area available that is large enough for the children to play. The space also needs to be safe and not contain hazardous objects.
Once your business has grown and the children you care for no longer fit in your home daycare, you will need to upgrade to a commercial building. When you are looking for commercial buildings, you want to make sure that they also have enough room to comfortably hold all the current children you care for. We recommend ensuring the space allows room for your business to grow as well. This will prevent you from having to upgrade spaces again soon.
The commercial building will need to have enough bathrooms for the children. If you care for more than 8 children, we recommend having a minimum of 2 bathrooms available. A kitchen area that allows you to prepare food for the children is also recommended, along with an area outside where the children can play when the weather is nice.
Invest in Business Insurance
Before you start accepting any clients, you must invest in business insurance! In most states, you will be required to have business insurance to keep your business operating legally. Some states may require proof of insurance before you can apply for your business license.
However, protecting your daycare business with insurance is not an option, even if it's not required in your specific state. Insurance acts as financial protection for you and your business. If a situation arises in your daycare facility, you can be personally responsible financially if you don't have insurance to protect you.
While your business is in the beginning stages, you can start by investing in a low amount of coverage. As your business grows and you hire employees, you can easily increase your coverage and add additional types of insurance your business may need. An example of an additional type of insurance you may need in the future is Workers Compensation insurance once you have employees.
We recommend getting quotes from a minimum of 3 insurance companies. This will allow you to compare different rates and different benefits that may come with your insurance policy. If you fail to get quotes from various companies, you may end up not getting the best rate for what you're looking for.
Decide on Your Rates
The rate that you charge your clients for caring for their children is a large factor in how successful your business will be. If your rate is too high for your area, you may have trouble securing new clients. However, if your rates are too low, you take the risk of your business finances going in the negative.
The factors you need to keep in consideration when deciding on your rates include the location of your daycare, the ages of the children you care for, the number of days the children are in your daycare and the competitive rates in your area. If your daycare is in a commercial building, you can charge a higher rate than you can if your daycare is in a home setting.
Rates for younger children will often be higher, especially for infants. Once a child has reached the age of two, the rate will often be lower. This is due to babies requiring constant attentive care. Once children have reached two years old, one adult can generally care for more children at one time than they can for infants.
If a child is in your care full time, their weekly or monthly rate will be much higher than a child that may be in your care only part-time. You can create separate rate packages based on how often the parent is needing care for their child. We recommend having both a part-time package and a full-time package.
The last factor you need to consider is the competitive rate for your area. The average rates will vary depending on the area you live in. To find the competitive rate for your market, we recommend calling around to various reputable daycares near you and asking for their rates. Once you've gathered 3-5 rates from your competitors, you will be able to analyze the rates and see what the average rates are for your area.
Purchase Your Supplies
When it comes to operating a daycare business, you may be surprised by the number of supplies you will need! You will need to invest in supplies for children like toys and educational material. You will also need large amounts of cleaning supplies and safety equipment. It is also likely you'll need to regularly purchase food to feed the children.
By purchasing adequate toys and educational material, you will be better prepared to keep the children in your care occupied and busy. Being able to provide educational material can also be a large advantage when you're doing advertising. Parents will love that their children are learning while in your care.
For cleaning supplies, it is essential that you have plenty of cleaning supplies on hand. Germs can spread quickly when children are around. For the safety of the children, and to prevent spreading illness, you should be consistently cleaning every area in your daycare. We recommend having multi-purpose cleaners, cleaning wipes, heavy-duty hand soap and sanitizer.
Safety equipment is essential to keep all the children in your care safe. Some examples of safety equipment you may need are gates to keep children out of certain areas, locks to keep cupboards closed and first aid kits.
Hire Additional Caregivers
In order to grow your business and accept more clients, you will need to hire additional caregivers. Most states will only allow one caregiver to watch so many children at one time. This is to ensure that all the children are properly cared for.
Once you are ready to hire more caregivers for your daycare, you can put out a listing on various local job classified sites. You can also ask around to those you know who work in the childcare industry, to see if they know of anyone looking for a job. Once you've received applicants, you will want to hold an interview with those who meet your qualifications.
We recommend seeking applicants who have experience previously working in childcare, even if it's previously babysitting and not in a professional setting. If an applicant has more childcare experience, they will often be better prepared to work in a daycare.
You also want to pay attention to the ages that the applicant has experience in caring for. If your daycare has more infants than older children, you want to ensure that your potential employee has experience working with infants.
Other factors we recommend paying attention to is if the applicants have certain certifications or education, like being CPR certified. By having employees with certifications and education in childcare, this will benefit your daycare business both in the short and long term.
Develop Policies for All Employees
Once your business is operating with multiple employees, it is essential for you to have a list of policies in place. You need to ensure that all employees are following the same safety and care guidelines that you expect for your daycare. We recommend providing the list of policies to a new employee once they start.
Your list of policies should explain any routines or schedules you have set in place, like if lunch or snacks are at a certain time. You may also have scheduled times for naps or outside playtime. Any schedules you expect new employees to follow should be listed in your policies.
It is also essential that your policies list safety precautions. It should include guidelines on what employees should do in case of a fire or if a child gets hurt while under their care. We recommend ensuring that the policy states that no child should ever be left without supervision. Even though most caregivers will already know this upfront, it will give you added protection by having it in your list of policies.
By providing your employees with a list of policies, it allows both you and your employee to be on the same page. It also acts as a resource, so your employee can refer to it later if they need to. Overall, policies prevent confusion and increase safety,
Invest in Advertising to Grow Your Business
If your goal is to ultimately grow your business into a larger organization, investing in advertising is a step you need to take. There are options for advertising and marketing that fit any type of budget your business may have.
To grow a daycare business, the best type of marketing is word of mouth. Parents are extremely cautious about who they allow to take care of their children. They want to find a daycare they can trust, which is why parents will often ask their friends and family for recommendations.
By keeping a good reputation with your clients, they can act as your best marketing strategy. If your clients are happy with your business, they will be more inclined to share your business with their friends and family.
For other types of advertising, we recommend being visible on social media by creating both a Facebook and Instagram business account for your daycare. Maintaining social media accounts for your business has multiple benefits. First, your clients will have an easy way to share your information with their friends and family.
A second benefit is you can place ads on Facebook and Instagram for your business. Their advertisements allow you to decide the budget you want to spend. You can also add in characteristics for your target audience, which will increase the success of your ad.
By following our checklist above, your new daycare business will be off to a successful start! Starting a daycare is not only a great way to bring in extra income, but it is also a business that is very rewarding by allowing you to positively impact the lives of children.
Related Questions:
Can I operate a daycare business by myself?
Yes, you can operate your daycare business by yourself in the beginning. You need to keep in mind that you will only be able to care for so many children by yourself. Most states will have a limit on how many children one adult is legally allowed to care for at one time.
If you want to grow your daycare business, we recommend hiring additional caregivers. You will be able to accept more clients. Plus, you will have someone available to give you a break when you may need one. It is always safe to have extra help!
Do I need a website for my daycare business?
A website is not required to start a daycare business, but we do recommend investing in one eventually. A benefit of having a website is it gives you more visibility online and allows your potential clients to find you easily.
If you don't want to invest in a website, we recommend at least creating a Facebook account for your business. This will allow you to be found somewhere online without having to spend the money on a website.
Please note: This blog post is for educational purposes only and does not constitute legal advice. Please consult a legal expert to address your specific needs.
Take the next step in opening your daycare business. Check out our easy to use startup documents here!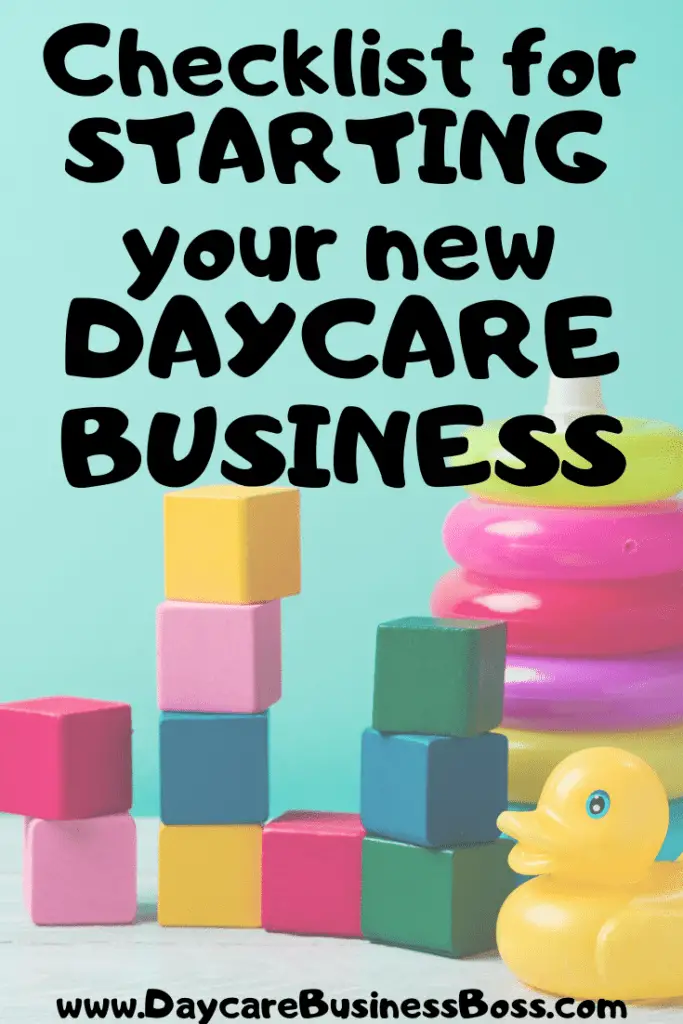 Meet Shawn Chun: Entrepreneur and Childcare Business Fan.
I'm a happy individual who happens to be an entrepreneur. I have owned several types of businesses in my life from a coffee shop to an import and export business to an online review business plus a few more and now I create online daycare business resources for those interested in starting new ventures. It's demanding work but I love it. I do it for those passionate about their business and their goals. That's why when I meet a childcare business owner, I see myself. I know how hard the struggle is to retain clients, find good employees and keep the business growing all while trying to stay competitive.
That's why I created Daycare Business Boss: I want to help childcare business owners like you build a thriving business that brings you endless joy and supports your ideal lifestyle.