Did you know that the majority of parents prefer to have their children cared for in a home rather than a daycare center? As of only a year ago, 97% of children in America are cared for in a home setting, not in a facility. That means that if you're thinking about opening your own home daycare, then you have a pretty good chance at success.
Let's answer this important question then, do you have to be licensed to run a home daycare? Yes, in many states you will have to obtain a license to run a daycare out of your home. There could also be other required permits to get and standards to meet as well. Here are some likely requirements for running a home daycare:
Attend licensing orientation
Apply for and obtain an operating license
Submit to a background check and fingerprinting
Acquire a business license
Residential permission
Liability insurance
The requirements and regulations are different from state to state, but you'll find that most of them have some kind of standards that touch on each of the items mentioned in our list. So, let's look at those a bit more closely.
Attend Licensing Orientation
Your process for meeting licensing requirements will many times start with just requesting an information packet. Once you read through everything and find out if you're eligible for running a home daycare, then you very likely may have to go to a licensing orientation.
Some states will give you the option to either attend an orientation in person or sign up to do one online. This course will provide you with a lot of information about the requirements in your state for opening a home daycare. It will answer many of the questions you probably have thought about in regards to running this kind of business. You'll learn about standards for your home, requirements for you as the owner, expectations for operating procedures, what safety precautions you need to take for the children in your care, and more.
Apply For and Obtain Operating License
Once you've completed the orientation, you'll need to fill out an application to get your daycare operating license. You'll have to answer questions about your home, your past experience caring for children, your employment history, your business plan for your daycare, and even your health.
A home inspection report will most likely have to accompany your application to be reviewed. There will also be other documents that have to be submitted along with the application. A fee needs to be paid as well.
If your application is approved, you'll be granted a daycare operating license. Be aware that this process can take up to six months to be completed, even longer if you fail to provide the requested documentation upfront.
Submit to Background Check and Fingerprinting
One of the reports that will have to be submitted with your license application is a background check report. You will need to pass one yourself and submit to being fingerprinted.
Others who live in your home will also be required to submit something. There are different levels of information that are needed for other people living in your home. You can check with your local governing agency to see what your state requires. Anyone who will be 18 years of age at the time your home daycare opens will have to have some kind of background check performed.
Acquire Business License
This requirement will vary from state to state and even from city to city. It's possible that you'll need to acquire a business license. This is a separate license from the daycare operating license. The purpose of this one is to just grant you permission to run any kind of business in that location.
A business license helps local governments with tracking taxes that are owed to them also. If your governing agencies require that you have one of these, be sure that you don't skip this step. It's just as important as the operating license. If you obtain one, but not the other, in a case where they're both required, you will not be operating legally. The punishment for that could be pretty steep and you could very likely have to close your daycare altogether.

Residential Permission
There are cities that require you to get the permission of the people living around you to be allowed to run a business in your home. If that's the case where you are, you'll have to seek the approval of an appropriate governing agency for your neighborhood.
You could find this to be the case if you rent your home also. You should probably always let your landlord know if you plan to run a home daycare where you're living, but some governments actually make this a requirement.
Liability Insurance
Caring for several children in your home opens you up to extra liability. There's an increased risk for someone getting hurt on your property or for the property getting damaged. You might have to carry business liability insurance if your state says so.
There are some states that don't require this insurance, but instead highly recommend it. Whether it's required or not, it's something you should strongly consider because there will likely come a day when you will need the extra coverage.
Sometimes you'll be allowed to transport the children in your care to other places. In this situation, you should also have a form of business auto insurance. At the very least, you and the parents can have some peace of mind that there is insurance to cover anything accidental that should happen when the children are in the vehicle.
Know the Requirements in Your State
Every state sets its own regulations governing home daycare licensing and operation. It's your job to look into what is required for yours. You can start by looking up the licensing and permit requirements that you'll need to open your daycare.
From there you need to be diligent in getting everything turned in quickly because it can take you half a year or more to get your license and permits granted. Once you do get them, then it's time to start signing people up. Hopefully, you will already have been doing some marketing, spreading the word that you'll be opening soon. That way you can start making money and helping parents out right away.
Get Started
So, do you need a license to run a home daycare? Yes, in most cases you do. There are some situations where you won't. Your state might have different requirements, or you are a relative who will be caring for the children within the family, or you just won't be caring for very many children. If you're not one of these though, you might need to attend an orientation, apply for a daycare operating license, submit to a background check, obtain a business license, get permission from the locals around you, and make sure you have the right amount of insurance required by your state's government.
Once you've gotten all of the right ducks in a row, you can open your home daycare feeling good about doing it in the proper way. Then you can move forward with a truly rewarding career and a business that's all your own.
Related Questions:
How much does a home daycare license and a business license cost?
A home daycare license doesn't cost much in terms of just the application fee. It will be different in different states, but they're typically less than $100. They also vary depending on the number of children you are planning on caring for.
Keep in mind that you'll have to pay for a background check as well though. That will likely carry an additional charge. On top of that, you'll have to get background checks for all of the people in your home that are over the age of 17.
A business license will usually run as low as $50 but can be as high as $400. Your cost will depend on your area, and some of the details of your business plan. Both of these licenses may also have a processing fee that you'll have to pay.
How will my house pass the home inspection for home daycare?
A big part of the home inspection is to look for safety concerns. The inspector will be looking to see that there are ways to exit the home in the event of a fire. You should also have fire escape routes posted in your house.
Every room should have a smoke alarm and either a fire extinguisher or a sprinkler system head, where children will be cared for. You need to make sure that the walkways in your home are free of clutter also.
Other things that will be looked at are stove knobs, electrical outlets, sleeping areas, outside play areas, what kind of toys are being provided, and documents proving CPR and first-aid certifications.
Please note: This blog post is for educational purposes only and does not constitute legal advice. Please consult a legal expert to address your specific needs.
Get going on your journey to own a daycare business today! Start with one of our comprehensive startup document packages.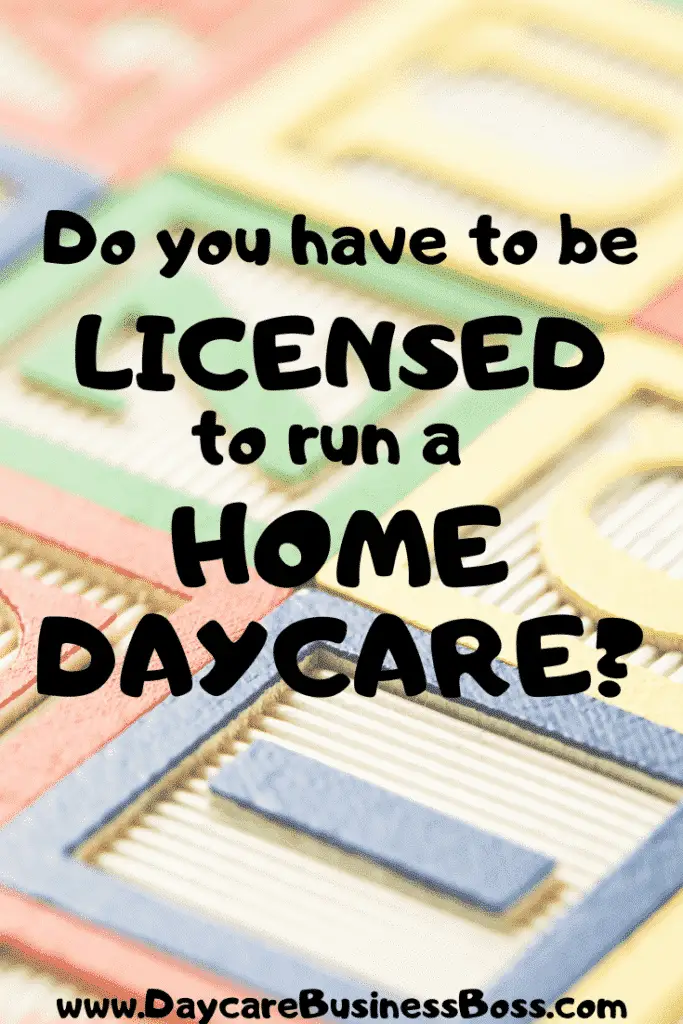 Meet Shawn Chun: Entrepreneur and Childcare Business Fan.
I'm a happy individual who happens to be an entrepreneur. I have owned several types of businesses in my life from a coffee shop to an import and export business to an online review business plus a few more and now I create online daycare business resources for those interested in starting new ventures. It's demanding work but I love it. I do it for those passionate about their business and their goals. That's why when I meet a childcare business owner, I see myself. I know how hard the struggle is to retain clients, find good employees and keep the business growing all while trying to stay competitive.
That's why I created Daycare Business Boss: I want to help childcare business owners like you build a thriving business that brings you endless joy and supports your ideal lifestyle.