Want to get paid while you take care of your own kids? Love working with children but can't afford the startup costs of opening a full-fledged daycare facility? Starting a childcare business in an apartment may be the right option for you.
Yes, you can open a childcare business in an apartment. Every state has different regulations, and you'll need to consider topics such as safety, the ability to find willing clientele, and startup costs.

Regulations
The main barrier to legally starting a childcare center out of your own apartment is the need to comply with regulations for the childcare industry. Let's just pause to remember – regulations are your friend. While they require some research and work to understand which rules apply to you, regulations limit the number of people willing to compete with you in this area. If you are serious about starting a childcare business, being willing to get through the regulatory barriers is your access to a reputable and profitable industry.
However, based on your intentions about how many children you want to take care of, you may be able to operate your own business without an official license from the state. You can check with Daycare.com's list of licensing requirements by state to find out where you stand. Basically, each state sets its own standards based on:
Caregiver qualifications or experience

Number of children in your care
Typically each state requires some sort of education on child care or child development, often requiring less education if you have prior experience working in a daycare facility or related area.
The second consideration is how many children you are planning on taking care of. Usually, if it's just a few, you can operate without a license. Be sure to check with your state regulators for specifics.
What About My Landlord?
Landlords can also have their own set of rules. While many states have laws that prohibit landlords from telling you that you can't run a daycare out of your apartment, they are still the first person who will try to tell you what you can and can't do on their property.
Before starting a discussion with your landlord, do some research. Look into your lease agreement – make sure there are no provisions stating that you can't run a business out of the unit. Often you could be protected against this anyways, as babysitting, nannying, and childcare typically fall outside of the typical business with high traffic or noise that they are trying to prohibit. However, you signed the lease, so they may have a claim against you if they did include that provision.
Also, look up your state rules regarding at-home daycares, since a law that says you are allowed to have a childcare business in your home will always trump a lease agreement. Either way, doing a little research can go a long way in defending your argument that you have the right and ability to start a childcare business out of your apartment, whenever they face-to-face conversations happen.

Safety
Providing a safe and stable environment is another crucial factor to consider when starting a childcare facility out of your apartment. If you do require licensing by the state in order to operate, they are permitted to perform inspections to ensure you have a location safe enough for childcare. But regardless of inspection, your potential customers will want to see that you have taken precautions to keep their child safe.
Safety starts with the basics – you will need to have adequate alarms in place, such as fire and carbon monoxide alarms. Often this is required of your landlord, so you should have no problem making sure these are in place. Other basics to consider are items like fire extinguishers and door locks; the last thing you need is a parent finding their child in your apartment building hallway. It should go without mentioning, but weapons and other items such as knives should be locked away and out of reach.
To be truly responsible as a childcare facility, you are probably well aware that there are more safety precautions to consider than just the basics. "Child-proofing" your apartment may be necessary to providing the type of place parents will trust. Depending on the age of the children you will be watching, this checklist will vary. However, here's a good starter list of things you will need to ensure your apartment is up to the standards a childcare business should be:
Electrical outlet covers:

Kids are curious and electricity is dangerous.
Anchors for large furniture:

That bookshelf full of children's stories is great, but make sure kids can only pull down the book they want to read, and not the bookshelf itself.
No cords hanging off of countertops or sharp corners:

It's best practice to assume the worst. Anything that could be pulled down or run into will most likely be pulled down or run into. Move or pad items appropriately.
This is just a shortlist to get your mind going, but being knowledgeable on this subject is absolutely necessary to providing childcare, especially out of your apartment. If the apartment is your primary residence, you'll have to come to terms with the fact that it is no longer just a residence – it is a functioning business, and needs to be treated as such.
Perception of your Childcare Business
Another major question to consider is, does this apartment actually have potential as a childcare business?
Starting a business requires customers to be on board with your "product." First impressions and visual appeal are huge variables. The state of your apartment isn't the only thing that will be considered – potential customers will also look at your building inside and out, the other people in your apartment building, as well as the neighborhood or town that you live in. The question they will be asking is, "does this look like a healthy and happy place for my child?"
Don't be surprised if you need to make some updates even outside of your individual apartment. Some childcare providers have taken measures to increase the perception of their building in general, such as planting flowers outside the front entrance or installing brighter lights in the hallways.
Additionally, running a business out of an apartment can be difficult because there are no visual cues pointing to it as a business. You don't have the benefit of having a sign out front or an obvious way to show people what you are offering, as the building itself isn't a clear representation of what your apartment entails.
Because of this, a well-defined marketing strategy is necessary to promote your childcare business. Whether that is online advertising, use of social media, or just word of mouth, you'll need to consider whether spreading the word about your new business is worth it to overcome these barriers.

Can I Afford to Start a Daycare Business?
Luckily, especially if you already have a child, starting a childcare business out of your apartment is a low-cost startup comparatively. If you already have your own child, you may have covered most of the safety costs already. Additional costs would potentially include:
Licensing (which could run $100 to $250, depending on the state)

Supplies, such as for nap time, storage, general setup including gates, etc.

Activities, such as educational materials, arts and crafts supplies, etc.

Food and snacks
All in all, whatever you decide to spend, make sure you include it in the rates that you charge to the customer so that you can recover these costs over time.
Starting a childcare business out of an apartment is certainly possible if you are willing to comply with regulations and can provide the type of atmosphere families will trust. Just be sure to uphold your reputation by making sure your apartment is safe and accommodating for multiple children. Communicate with your landlord so there are no surprises and do enough local research to make sure you aren't breaking any laws trying to do the work you love. The opportunity to make money taking care of children is there for the taking!
Related Questions
What if I want to have a larger number of children in my daycare?
If you are envisioning having a larger scale childcare operation out of an apartment, you will most likely require licensing and will need to take into consideration the caregiver to child ratio, which is a common requirement set by each state. You may have to hire staff, which would then include responsibilities such as payroll, taxes, and responsible hiring practices such as confirming their experience and education levels are adequate.
What if the apartment is not my home, but a separate location?
States are much more friendly to childcare providers operating out of their own primary residence, but a secondary apartment location is not off the table. This just puts more power in the hands of the landlord, as they have the right to prevent businesses from using a residential property for business purposes. You also have to consider whether the additional costs are worth it to rent out a separate apartment instead of just getting a traditional commercial space designed for childcare.
What if I want to serve food?
This will most likely be a business need for most childcare facilities. If this is the case, you will need to pass a health inspection, which you can request from your local health department if you want to avoid any hold-ups in the licensing process.
Please note: This blog post is for educational purposes only and does not constitute legal advice. Please consult a legal expert to address your specific needs.
Want more advice on starting your daycare business? Check out our free ebook here!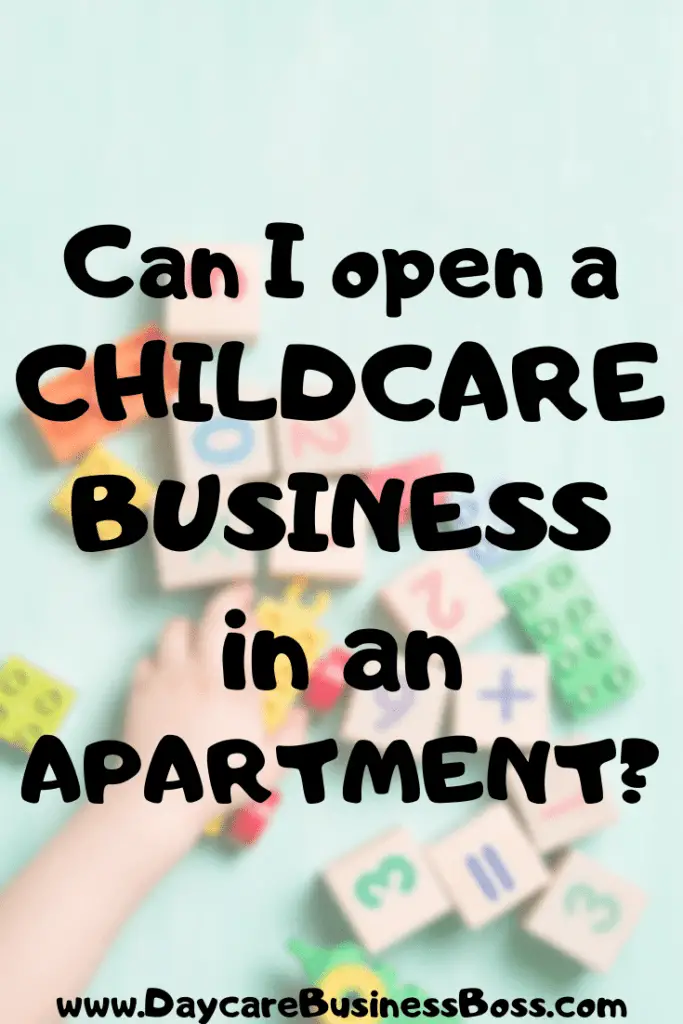 Meet Shawn Chun: Entrepreneur and Childcare Business Fan.
I'm a happy individual who happens to be an entrepreneur. I have owned several types of businesses in my life from a coffee shop to an import and export business to an online review business plus a few more and now I create online daycare business resources for those interested in starting new ventures. It's demanding work but I love it. I do it for those passionate about their business and their goals. That's why when I meet a childcare business owner, I see myself. I know how hard the struggle is to retain clients, find good employees and keep the business growing all while trying to stay competitive.
That's why I created Daycare Business Boss: I want to help childcare business owners like you build a thriving business that brings you endless joy and supports your ideal lifestyle.