You need more than just dedication and a desire to work with children to start a daycare. Sure, those things are certainly key requirements, but what else do you need to obtain before you can open your business? There's actually quite a bit to it. Let's take a look at some of the more important considerations.
When starting a daycare business, you will need a solid business plan, proper training and licensing, insurance, a safe facility where you can work while the children under your care play, and a variety of supplies like toys and furniture.
The number of things you'll need, from legal documents to actual items, is a bit big, but once you have everything, you will be in the perfect position to open your daycare. Now, let's take a closer look at that list.

Writing Your Business Plan
Having a solid business plan is the key to running a successful daycare. It should be formatted as an official document and will help you stay on track as you prepare to open your daycare, then help you determine whether or not you are reaching your business goals once you begin enrolling clients. Most business plans are broken up into three sections:
Business summary

Marketing

Finances
The business summary contains all the information about your plans for your daycare. Here, you will start by writing a mission statement, using one or two sentences to explain the vision you have for your daycare. You will also need to include a description of what services you will provide, list your short term and long term business goals, and add an explanation of how you plan to reach those goals, thereby making your business a success.
The marketing section of your business plan describes who your clients will be. Do you want to work with only people in your community, or are you open to accepting children from surrounding towns? What age children will you want to care for? You will also need to be aware of your competition and decide how you will convince clients to enroll in your daycare instead of going somewhere else.
The finance section of your business plan is all about the money. This is where you will use spreadsheets to track all of the money going into and out of your daycare. If you don't have much experience in budgeting, you may want to find a local accountant to work with to ensure that you get started on the right track.
If writing your own business plan on your own seems a little daunting, there are a lot of business writing resources online. There are many free business plan templates available to download that will help guide you through creating your initial plan. For example, SCORE is a great resource for all types of business start-ups and offers a comprehensive business plan template, which can be found here.

Certificates and Licensing
Once you have your business plan drawn up, it's time to pursue the certificates and licenses that will allow you to open a safe, legal daycare center. Every state has its own special requirements that daycare providers must meet, but some of the training programs you should expect to attend include:
State-specific orientation programs

CPR and First Aid certification

Mandated Reporter training
Many states offer their own specialized orientation programs for anyone who wishes to run a daycare center. You will need to check with your state daycare licensing department in order to register for a class. Click here to locate your specific state's daycare licensing requirements, including information about available in-person and online orientation programs.
CPR and First Aid training are both available through the Red Cross, but other locations in your area may have classes available. Just make sure that you take a certified course since you will need that certificate in order to obtain your daycare license. Having an up to date CPR and First Aid certificate will also give parents peace of mind since it shows that you are prepared to handle medical emergencies.
Most U.S. states and districts now require daycare providers to take Mandated Reporter Training. This specialized course helps those who work with children recognize the signs of abuse and understand how to report mistreatment to the proper authorities. Learn more about mandated reporting here. 
After you have met all of your state's requirements, you will then be able to apply for your daycare license. It generally takes about six months for the application process to be completed, so you will want to keep that in mind as you prepare to open your business.
Daycare Insurance
The next thing you will need to get before opening your business is the right type of insurance. Keep in mind that, if you are planning on opening an in-home daycare, your regular homeowner's insurance will not provide the coverage you will need, and renewal of your current insurance policy may be denied if you try to run your daycare without getting the proper insurance.
No one expects to be sued, but it can happen, no matter how careful you are. Liability insurance will protect you and any employees you have in the event of an accident or incident that results in a lawsuit. If you will be transporting children for your daycare in a personal or company vehicle, you will need to add liability insurance there, as well. Of course, the hope is that you'll never need it, but as a responsible business owner, you will find that this type of coverage will give you peace of mind.
You will also need to get property insurance covering your home and the supplies that you will need to purchase for your daycare. This will cover damage to the building, indoor items like cribs and toys, as well as outdoor equipment like swing sets. If you are opening your daycare out of your own home, you should talk to your insurance agent to see if you need a separate property insurance plan, or if you can add a rider to your current policy that will fulfill your needs.
If you don't wish to take out multiple insurance policies, there is daycare insurance available that can be customized to suit all of your needs. In addition to liability and property insurance, daycare insurance can also cover things like field trips, special events, loss of income in the event of extended forced closure, and worker's compensation, which will provide medical coverage to any employees who are hurt while on the job. Due to the flexibility of a daycare insurance policy, talking to your insurance agent about adopting this kind of coverage is probably your best option.

Facilities and Equipment
Finally, you will need the proper facilities and equipment for your daycare. When choosing a location for your business, you have a couple of options, each with their own pros and cons. Those options include:
An at-home daycare

A rented space
An at-home daycare is probably the most convenient. You own the space, and the commute to work can't be any faster. The problems with opening an at-home daycare include the necessity of undergoing regular home inspections, the need to constantly clean and childproof your home, and the potential disruption of the household. You may also find yourself limited to the number of children you can care for, and you might have to make some changes to your home and yard, such as setting up a room specifically for your daycare clients to nap and play in and adding a fenced-in area outside. Still, and at-home daycare is a great option, and the additional costs versus renting a facility are very small.
When renting a facility, you may be able to bring in more clients, and you won't have to keep your home spotless at all times, but the cost of overhead may outweigh those conveniences. A rented space will still need to be inspected regularly, and you may be limited on outdoor play space, depending on the location. Which choice you make will have to depend on your business goals, and on the expectations of your family members who live with you in your home.
Once you have your location chosen, it's time to start gathering equipment. Some of the things you may need include:
Furniture

Art Supplies, Toys, and Books

Healthy Snacks and Drinks

Sleeping Supplies

Cleaning and Sanitary Supplies
Furniture may include things like cribs, changing tables, bookshelves, toy storage, child-sized tables and chairs, coat racks, and cubbies for the children's items. When buying furniture, make sure that it meets all of the current safety recommendations, and follow the instructions when assembling and installing. Shelves should be secured to the wall to prevent tip-over accidents, and cabinets and cubbies should have safety locks installed.
You can use your imagination when buying art supplies, toys, and books. Just keep in mind that some things, like paint and play-dough, can be messy and require extra supervision. Make sure everything you buy is age-appropriate for the children you will be watching so they will be both fun and safe for the little ones who are going to use them. Some great toy suggestions include building blocks, board games, dolls, and toy trucks. Make sure to get a variety of both outdoor and indoor play equipment, since your clients will want to be outside in nice weather. For art supplies, coloring books and crayons are a great option, and you can use sidewalk chalk outdoors in good weather. If you decide you want to add paint to your art supplies, easels will make your clients feel like real artists, and smocks will make clean up much easier. When choosing books, start with your favorites and purchase ones you will enjoy reading to your clients, then browse through the bookstore for a fun variety that can be enjoyed by all of the children under your care.
Healthy snacks and drinks are a must for your daycare! Make sure that you are aware of any food allergies that your clients may have, and take proper precautions. Some great snack ideas include cereal, fruit, vegetables, and crackers. For drinks, it's always good to go with milk or 100% fruit juice. You can get fancy if you want and prepare fun treats, or you can go simple and have cut fruit and vegetables for your clients to enjoy. Just make sure you choose nutritious snacks that aren't too high in sugar so that parents will know that you are conscious of their children's health, and so you won't have to worry about the hyperactivity that accompanies sugar consumption.
Depending on the age of your clients, you will want to have sleeping supplies available for nap times. Infants will need cribs, but older children can sleep on mats or cots on the floor. You can ask parents to send their children with pillows, sheets, and blankets from home, but it is always a good idea to have your own supply cleaned and ready for use if you need back-ups.
Finally, you will need to get cleaning and sanitary supplies. You will probably want to ask parents to send their own diapers and wipes, but it would be a smart idea to have spares on hand just in case someone forgets or doesn't send enough. Wet wipes are also great for cleaning hands and faces, or for wiping up spills. You'll also need things like tissues, paper towels, and sanitizing surface cleaners. Just make sure anything that isn't kid-safe is locked away in a high cupboard that none of your young clients can get into.
As you can see, there are a lot of things—from licenses to facilities and equipment—that you will need to obtain before starting your daycare. Though this list is large, keep in mind that you can claim the costs of required courses and of anything you purchase specifically for use in your daycare as business expenses. Just be sure to keep careful track of what you spend while gathering everything.
Related Questions
How much does it cost to open a daycare?
The cost can vary, depending on the courses you have to take and the supplies you will need to buy, but you can expect to spend between $1,000 and $4,000 when opening an at-home daycare. If you are renting a facility, the initial investment will be much higher.
Do I really need to get a daycare license?
Some states do permit residents to open unlicensed at-home daycares, but a licensed daycare business is more lucrative. If you are only planning on watching a few children, you may be able to go the unlicensed route, but it would be best to check state requirements first to make sure you are operating within the law.
I already have some supplies, like toys and books, on hand. Do I really need to buy more?
It is a good idea to keep business and personal supplies separate. That being said, some bigger items you already own, like playground equipment, can be used for your daycare as long as they meet current safety specifications.
Please note: This blog post is for educational purposes only and does not constitute legal advice. Please consult a legal expert to address your specific needs.
Check out our free ebook for tips on starting your own daycare business!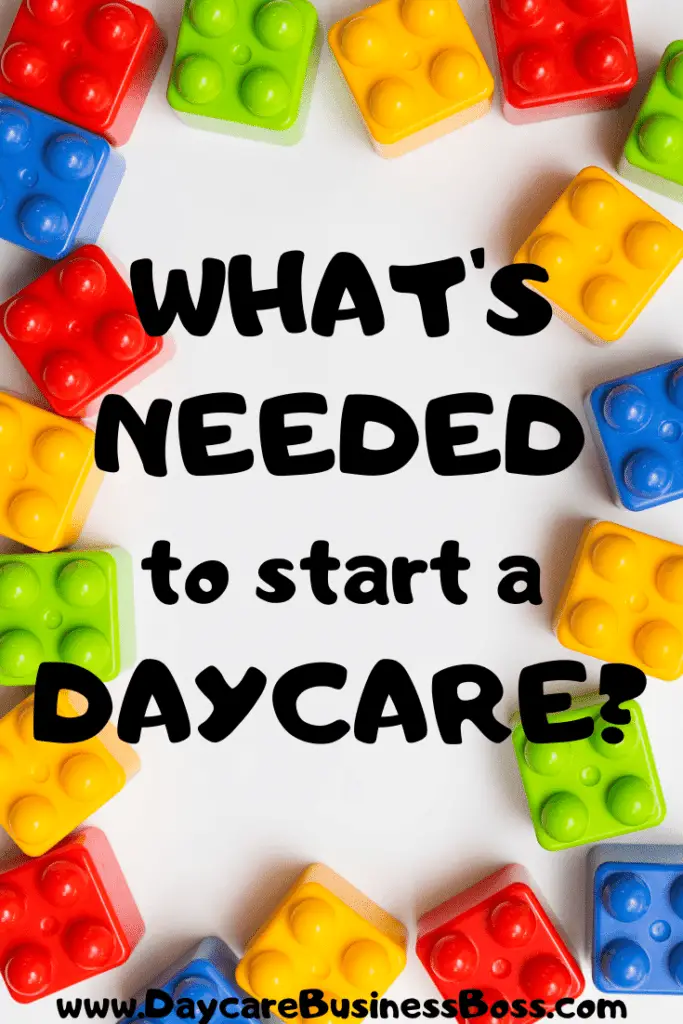 Meet Shawn Chun: Entrepreneur and Childcare Business Fan.
I'm a happy individual who happens to be an entrepreneur. I have owned several types of businesses in my life from a coffee shop to an import and export business to an online review business plus a few more and now I create online daycare business resources for those interested in starting new ventures. It's demanding work but I love it. I do it for those passionate about their business and their goals. That's why when I meet a childcare business owner, I see myself. I know how hard the struggle is to retain clients, find good employees and keep the business growing all while trying to stay competitive.
That's why I created Daycare Business Boss: I want to help childcare business owners like you build a thriving business that brings you endless joy and supports your ideal lifestyle.