In addition to the safety and legal aspects of starting a daycare, there are also financial considerations that should be planned for. Initial start-up costs can run high, depending on the readiness of one's home. Business owners should plan for unexpected expenses to make their home compliant with state regulations, as well as setting aside additional upfront costs such as marketing materials. These expenses, along with recurring costs, contribute to what one should charge for in-home daycare.
For an in-home daycare service, one should charge between $700 and $900 per month for each child. These numbers are consistent with the national averages of in-home child care costs. Although rates are dependent on a number of factors, one can reasonably expect to charge that much to keep up with expenses and remain profitable.
In order to understand the rates daycares charge, it is important to distinguish between the different types of daycare facilities. In-home daycare centers provide child care services within the residence of a professional caregiver. Larger child care facilities, on the other hand, are typically in commercial buildings. There also tends to be a greater amount of diversity, as in-home daycares often offer mixed age group settings. Thus, a familial feel is attributed to in-home daycares, while typical daycare centers may feel more like a classroom.
As a result of the differences between daycare facilities, there is a wide range of rates charged to clients. Rates can vary among types of daycares, as well as their locations and training. On average, in-home daycare centers tend to be more affordable than traditional child care facilities. This is largely because larger businesses are commercial properties, thus having higher overhead costs than a residential daycare. However, the most expensive type of child care is a nanny, with a national average cost of $596 per week.
Commercial child care centers incur significantly greater costs as a result of their size. They also take on additional expenses, such as property leases. The upfront costs are also much greater, as more appliances, hardware, and supplies are required. Caring after a larger number of children means that more staff are needed to comply with state ratios of caregivers to children. Classroom supplies, food products, monthly bills, and labor all cost much more at typical child care centers, which contributes to their high rates.
Business Expenses
A significant consideration when determining how much one will charge for their in-home daycare service is business expenses. In-home daycare owners face a number of upfront expenses, especially when first starting out. If the business owner's home does not comply with state regulations pertaining to child care centers, renovations and upgrades must be made before the business can open. Initial supplies cost about $7,500 administrative costs tend to be around $6,800, and building renovation costs could potentially run up to $40,000 if a complete renovation is needed.
Despite these expenses upon startup, it still remains significantly cheaper to create and run an in-home daycare rather than a typical child care center. There are no additional building lease costs, as the business is run entirely out of the owner's home. Administrative and supply costs are relatively low, as less items are needed. This is because in-home daycares provide care to less children than larger commercial centers. As a result, fewer supplies and staff are needed, which not only reduces costs, but can also make the business a bit easier to manage.
When deciding on rates for a daycare service, monthly expenses are among the most important to consider, as they are recurring and will consistently cost the business money on a regular basis. Such costs include food, toys, educational materials, utility bills, annual licensing fees, and labor. Labor costs will vary quite a bit between states, and should be determined based on the qualifications of the staff. The business owner's salary should also be included in this calculation to give a more accurate representation of total labor costs. The number of staff will largely depend on state regulation, as many states have set ratios of caregivers to children.
Maintaining high standards of cleanliness and safety also translates into greater costs, which must be considered. Purchasing proper sanitizing supplies and ensuring the home remains safe is critical. Educational materials also must be purchased relatively often as well if it is offered. Some in-home daycare centers choose to eliminate this expense by requesting parents to provide the necessary supplies.

Average Rates
National averages of weekly daycare rates show that child care centers charge between $180 and $215, which amounts to about $720 and $860 per month, respectively. These numbers have also increased quite considerably since 2014. When factoring in both child care centers and family care centers, the average increase was nearly $50 per week. This increase shows how quickly and dramatically the prices of daycare can fluctuate. While there is not a specific clear reason for the relatively rapid increase, a significant portion of the revenue goes to complying with regulatory standards. Perhaps the most impactful of these standards is the staff to child ratio, which requires a high number of staff on duty, even for a small number of children.
If one is looking to open a daycare in the District of Columbia, California, Oregon, New Mexico, or New York, business owners may be able to charge more and remain competitive. This is because those five places are the top five least affordable for child care centers, which is based on the average care cost in relation to median family income.
In some states, such as Massachusetts, average costs can exceed $10,000 per year for infants. The most affordable states include North Dakota, Utah, Delaware, New Jersey, and South Dakota. In these states, daycare can be as low as around $300 per month. This can likely be attributed, at least in part, to the varying costs of living around the country. In states where there are lower labor costs, low house costs, and less strict regulation, daycare centers are able to charge much less. This tends to be geographic, with the most expensive in-home daycare centers being located in urban cities, while more affordable child care facilities are located in rural areas.
Contributing Factors
Many factors contribute to the cost of an in-home daycare. Age, for example, is a significant factor that impacts the rates charged by daycare centers. Younger children, especially newborns and infants, can cost much more than older children. This is because they require much more attention and care as a result of their needs. They need to be fed and have their diapers changed, which requires more work than older children. On average, in-home daycare centers charge $720 more per year for infants than four years old.
Location is also a factor that impacts daycare rates, which makes it especially important for business owners to first check other local rates. Not only will this likely make the daycare more reasonably priced for clients compared to others in the area, but it will also increase competition. By keeping rates similar or slightly lower than nearby daycare facilities, clients may be much more attracted to the business.
In-home daycare facilities that face higher costs, such as high renovation expenses, high utility bills, or high labor costs may also decide to charge more. Doing this ensures that the business will keep up with expenses while also staying profitable. Additionally, in-home daycare centers may face higher licensing fees if their business is certified to care for a larger number of children, for example. Thus, licensing and accreditation status also impacts what owners charge for their services. Although a business owner may have to charge more as a result of this status, it has been shown that many parents are willing to pay more for a daycare center that is licensed and is staffed with qualified caregivers. A study showed that 66% of parents are willing to pay more for child care services if the staff received safety training, such as CPR and first aid certifications.
The number of children the daycare expects to care for also plays a role in determining what to charge. If a relatively large number of children are going to attend the facility, then one may be able to charge slightly less, since the business expenses are spread over more children. Similarly, if only a small number of children are to be cared for, owners may have to charge a little more for their services.
The services offered by the in-home daycare are also a significant contributing factor. Some daycare centers offer tutoring or overnight care, which could justify higher rates. Further, experience and skills may also lead to higher rates, as experienced staff with specialized skills costs more than hiring staff with minimal qualifications. Despite the higher cost, experienced staff can prove to be an asset, as parents would likely feel more comfortable leaving their children under the watchful eye of more experienced caregivers. Also, some parents may be looking for a daycare center with bilingual staff or caregivers that have experience watching children with behavioral or developmental issues. In addition, many daycare centers offer meals for children. This could result in higher rates because food preparation requires additional time and financial commitment. Food must be ordered and prepared, which adds to expenses.
The success of an in-home daycare is dependent on a wide variety of factors and, while parents certainly consider cost, they tend to prioritize the quality of care. Successful in-home daycares gain a good reputation, maintain high standards, receive accreditation, and exercise exceptional care. Parents are likely willing to pay more for an in-home daycare service that achieves all of this, which is why it is important to run a safe and healthy facility.
Related Questions
How much can I expect to earn?
Most daycare owners can expect to earn a net profit of nine to fourteen percent of gross revenue. Home daycare owners have a median income of around $20,000 per year. It remains a rewarding profession that many business owners in the industry are passionate about. In order to become more profitable or earn a higher salary, some in-home daycare owners choose to expand their businesses to larger commercial properties. This increases profit, as much more children can be cared for in a bigger facility.
What are some additional considerations I should factor in?
Owners of in-home daycare centers should consider some other factors that may impact the final rate. This includes commuting, the number of children, benefits to employees, more training, taxes, and budgetary needs. Benefits to employees include 401k savings funds, health insurance, and paid time off. These all have considerable financial implications for the daycare business, which may affect what one charge. Further, business owners may decide that they would like their staff to receive more training. Sponsoring CPR or first aid training will be an additional expense. Similarly, hiring staff who are already certified will also cost more in labor than hiring those who are not.
What are some additional tips regarding how much to charge for in-home daycare?
Perhaps one of the most important things a business owner can do is to create and maintain a budget. This allows one to keep track of costs and determine whether the business is profitable. This is especially important because of all the complex factors that contribute to daycare rates. Remaining cognizant of what similar nearby businesses are charging is also a good idea, as it allows one to understand what clients reasonably expect to pay for child care services. It is also important to note that the rates are not permanently set, and can be subject to change. Over the past five years, daycares have charged considerably more each year. While keeping up with other businesses in the market is necessary, it is also wise to consider what clients are willing to pay before changing rates.
Please note: This blog post is for educational purposes only and does not constitute legal advice. Please consult a legal expert to address your specific needs.
Take a look at our free ebook and get started with opening your daycare business today!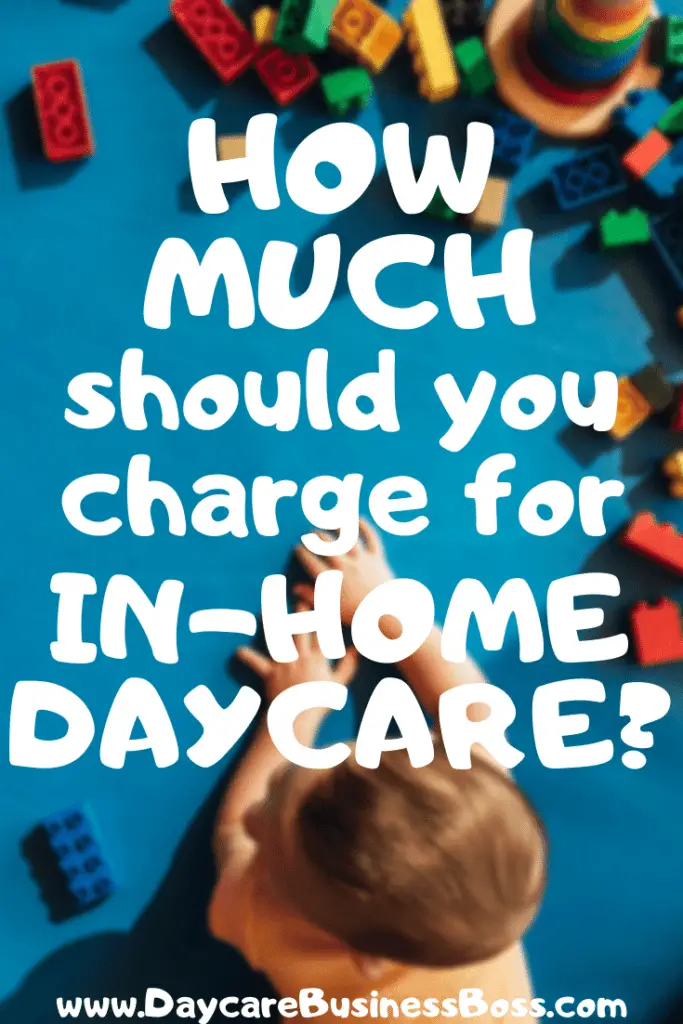 Meet Shawn Chun: Entrepreneur and Childcare Business Fan.
I'm a happy individual who happens to be an entrepreneur. I have owned several types of businesses in my life from a coffee shop to an import and export business to an online review business plus a few more and now I create online daycare business resources for those interested in starting new ventures. It's demanding work but I love it. I do it for those passionate about their business and their goals. That's why when I meet a childcare business owner, I see myself. I know how hard the struggle is to retain clients, find good employees and keep the business growing all while trying to stay competitive.
That's why I created Daycare Business Boss: I want to help childcare business owners like you build a thriving business that brings you endless joy and supports your ideal lifestyle.