Have you decided that operating a daycare business is the entrepreneurial path you would like to take? Excellent! While running a childcare business is rewarding both financially and directly, a good entrepreneur has to understand how to manage the business to see a return on investment.
The starting costs are not the only expenses you have to worry about. So, just how much does it cost to run a childcare business? On average, an in-home daycare with two minimum wage employees caring for ten children five days a week costs about $62,600 annually. This, of course, varies with the size, location, and type of childcare facility.
Any new business owner needs to know the overall costs of their intended business. This is especially true for those that wish to operate a daycare. Luckily, we have included everything you need to know below.
Job Responsibilities 
Before diving into operation costs, it is important to understand all that will be expected of you as an owner of a childcare facility. A daycare owner usually has a wide range of day-to-day duties. One of the most important being relationship building.
You will manage and hire employees and often act as a liaison between your staff and the parents. Not to mention, you will act as a point of reference and expert (about childcare and development) for the parents.
On the other side of things, facilities have to be cleaned (whether by you or a hired staff member) as well as up to date on all licenses and mortgages. Balancing the books is up to you too. Any marketing or administrative work will be your responsibility.
Essentially, a good daycare owner has to have equal parts leadership abilities, communication skills and a strong mind for business. There is so much cash flow going in and out on a daily/weekly/monthly basis that one really needs to be good at keeping up with the books.
Employee Compensation
Each state has different regulations for how many employees should be staffed for the number of children. It also varies with the different ages of the children.
For example, the state of Georgia requires that only 1 employee can care for 3 babies or those children under 1-year-old. For children aged 3 years old or younger, there is a maximum of 6 children per 1 caregiver.
If you have 5 employees in the state of Georgia, making a minimum of $7.50/hour and working 40 hours/week, that comes to $6,000/month. This is an annual amount of $72,000 taken out of profits for employee salaries.
Rent/Utilities 
The monthly rent depends totally on whether you are renting a facility or running the business out of your home. For example, if you are not making rent payment for a lease you will save money there. However, there is still electricity, heating and phone/Wi-Fi to consider. On average this will be a monthly cost of:
Phone/Internet: $150
Heating: $300
Electricity: $150
Those who are leasing a daycare center separate from their own home will still have to pay for those utilities plus rent. Rent will always depend on the location and size, however, the average rent for a medium-sized facility is $2,000/month.
The choice to run a home-based or separate facility is unique and completely up to each business owner. Both have pros and cons and offer various opportunities.
Insurance
Insurance is a monthly necessity if you want to keep the business licensed and in the clear. While it is not always mandatory for an in-home daycare to it is still a good idea to have some sort of coverage.
For in-home centers, the annual costs are slightly less expensive from $250 – $800. For commercial daycares, it is in the range of $400 – $2,000. Of course, this will depend on your coverage and location. Be sure to check with an agent to ensure you have the right protection.

Food
Food is a huge part of the services offered at a daycare. Most children enrolled with eat breakfast, lunch and two snacks. Depending on the facility type and hours a "dinner" or third snack might be involved.
On average it costs about $7 per child per day for food. So, if you are supplying food and snacks for 10 children daily (5 days per week) for the year, expect to spend about $18,200 annually on fruits, veggies, milk, juice, and meals.
Furnishings
As one could imagine, it takes a lot to furnish and supply a daycare. Child-sized and safe furniture is essential. This includes bedding, changing stations, tables, chairs, and mats.
The necessary supplies to provide the food, such as a microwave, oven, kettle, dishwasher, meal carts, etc., are also needed for any daycare operation.
Other furnishings include things like security cameras, possibly some sort of projector or music sound system. Or even cleaning supplies like a vacuum, washing machines, etc.
While every daycare owner will have to spend to furnish the facility, how much will differ due to if the center or house already had some of these supplies and how many children are enrolled. At the start of your business, you can expect to spend about $2,600 on furniture, toys, safety supplies, kitchen supplies, nap time items, household supplies, and office supplies. In most cases, this is an initial investment; you can expect to spend between $250 and $500 annually after these purchases.
Miscellaneous Supplies
Besides the furnishing, there are a lot of other items that have to be purchased throughout the year for maintaining a daycare.
Supplies for art and crafts like crayons, paper, scissors glue, markers, pencils, etc. are all relatively low cost. The same goes for office supplies like printer cartridges, stamps, etc. However, they will have to be replaced often. Expect a monthly cost of anywhere from $50 – $100.
Learning materials like posters, books, and puzzles are another expense not to forget. As well as musical instruments, toys and any additional educational material you might need. Luckily, these are more durable. Anywhere from $500 – $1,000 might be expected for the year (or even longer.)
Total Average Costs
Considering all the variables that go into creating a daycare, the following average considers two regular employees making minimum wage while caring for ten children over a five-day period.
The average annual cost to run an in-home daycare for 10 full-time enrolled children is as follows:
Employee salaries for 2 caregivers: $31,200
Rent/Utilities: about $600 per month, $7,200
Insurance for home-based daycare: $250 – $800
Food for 10 full-time enrolled children: $18,200
Furnishings: about $3,000 initially; around $500 annually
Miscellaneous Supplies: $1,100 – $2,200
Total: $62,600
Big numbers are intimidating but keep in mind that this will be paid with the amount coming in from enrollment costs (of which you could also charge for meals) and even government grants if you serve low-income families. This and the numbers above will vary slightly from state to state, location, facility type and the number of children/employees enrolled.
Creating and maintaining a budget will greatly help your business thrive. An example annual budget form is a good place to start.

Related Questions
Can I still make a profit with a small scale or at home daycare?
While in-home daycare costs less to run, there is less of a profit to be made. So, yes you will still take home revenue. Just do not expect it to make you rich. However, many daycare owners who operate out of their homes, do it for the love of the job over a high salary.
What are the hidden costs in the industry?
Not so obvious costs that come with operating a daycare include keeping toys, art/learning supplies and furniture in working condition. Whether you are buying crayons or furniture, eventually, they have to be replaced. Just keep this in mind and do not expect to only buy these times one time.
  Is it more expensive to care for infants?
Babies need additional supplies such as cribs, diaper disposal, changing tables and separate toys/play equipment. Plus, there might be additional insurance and staff to care for infants. For example, New York regulations require one employee for two infants.
All of which can be quite costly. This does make it more expensive than just toddlers and small children. However, deciding to care for babies is totally up to each owner and the type of facility they wish to run.
Please note: This blog post is for educational purposes only and does not constitute legal advice. Please consult a legal expert to address your specific needs.
Take the next steps in opening your daycare. Use our startup documents to help you on your way!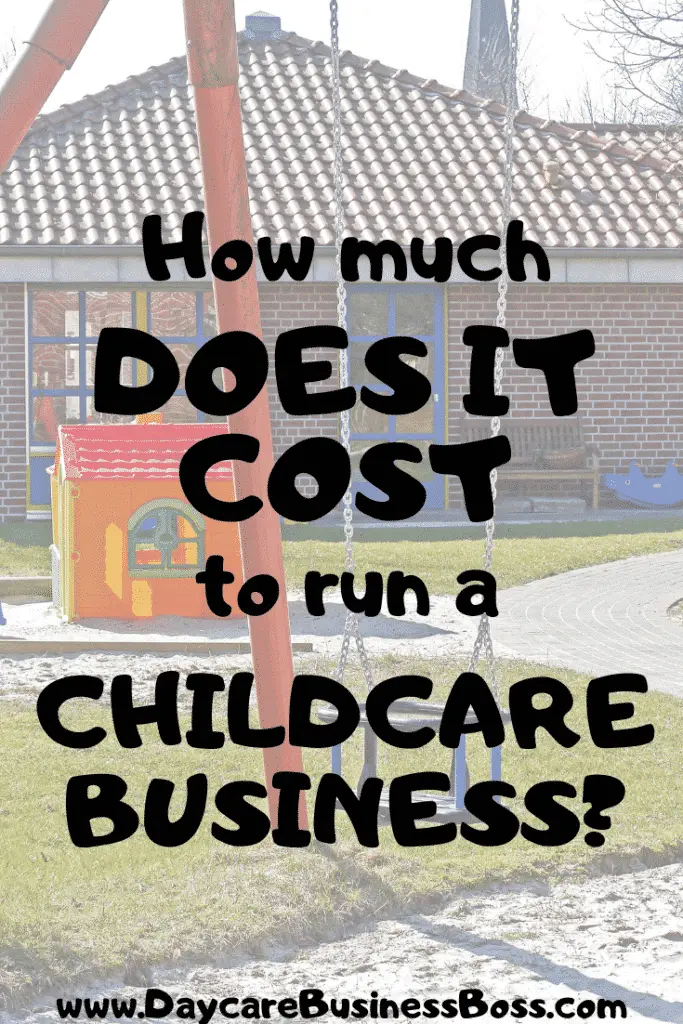 Meet Shawn Chun: Entrepreneur and Childcare Business Fan.
I'm a happy individual who happens to be an entrepreneur. I have owned several types of businesses in my life from a coffee shop to an import and export business to an online review business plus a few more and now I create online daycare business resources for those interested in starting new ventures. It's demanding work but I love it. I do it for those passionate about their business and their goals. That's why when I meet a childcare business owner, I see myself. I know how hard the struggle is to retain clients, find good employees and keep the business growing all while trying to stay competitive.
That's why I created Daycare Business Boss: I want to help childcare business owners like you build a thriving business that brings you endless joy and supports your ideal lifestyle.