If you are one with both a nurturing and entrepreneurial side, owning your own daycare might be the business venture for you! While the startup duties include detailed preparation, the daycare business is proven to be rewarding and lucrative.
As with any business, opening a daycare will take some initial investment. With that being said, just how much do you need to start a daycare? Opening your own daycare business will take anywhere between 100,000 to 750,000 dollars. The exact startup costs factor greatly depending on the size, location and facility type.
Don't let those large numbers scare you! Running and operating a daycare can be a lucrative and rewarding business. You just have to learn how to go about it in the right way. 
First Things First
To be clear, a daycare is a facility for babies and young toddlers. While you can decide if your facility will prepare the older toddlers (those who are about 4 years old) for kindergarten, actual kindergarten education is not part of daycare services. Daycares are designed to care and look after children generally while parents work. They also help young children develop social and motor skills while introducing children to art, music, nature, the structure of education, and so forth. A good daycare should, above all, care for the needs and safety of children. It is also one of the first places where the majority of children are introduced to a social setting and develop interests.
As you can see, this is a big deal not just for the children who attend but for the parents as well. It is a job that should not be taken lightly. Therefore, if you want to open a daycare, it is imperative that all your ducks must be in a row.
For example, one must apply for a license and register with local and/or state governments. Plus, a daycare owner has to insure his or her business. Also, a daycare space has to be regulated and approved before it can open.
No need to worry, though. Detailed information about this is found below:
Facility Types
The first thing you need to consider is what type of daycare facility you want. An at-home daycare is the cheapest option because you are not buying or leasing the building. However, that means a good portion of your home will need to be used for your business. Overall your expenses are between $10,000 – $50,000 for an in-home daycare.
A startup daycare center is on neutral ground and all your own. However, it does cost more. The cost will depend greatly on the location and size of your facility. Assuming you have a medium-sized center in a good location you will spend at the lower end of $59,000.
An existing franchise is easier in the sense that the layout, safety features, etc. will likely be up to regulation. However, the initial costs don't differ too much from a startup daycare center. This means it can reach upwards of $60,000.
Licenses
This is hands down the most expensive – yet extremely important – part of running a daycare. Firstly, you need to register the business so that it can legally operate in the United States. How much you have to shell out for this depends on the size of your center. However, registering a medium-sized daycare will cost about $750. 
You will also need to apply for a license. Each state's regulations and licensing procedures differ slightly. Regardless, you have to research your state's specific requirements. Ensure that everything is operating under those regulations and obtain a business license.
For more information on the exact costs and requirements visit your local city or town's country clerk office. Additionally, the U.S. Small Business Administration has more state-by-state information. 
Food is a part of the services offered by daycares. This means a health inspection certification is required. You will need to pass the inspection to receive the permit from your state health department.
Additionally, you will likely need a fire safety permit as well as an air and water pollution control permit. Again, these exact costs depend on location and size. For example, these various permits are anywhere between $100 – $1000 each. 
Insurance
Getting insured is a requirement of your licensure. So this is something you will have to do. And, trust us, it is absolutely worth it. Liability insurance is necessary for most small businesses, but especially so, when you are caring for other people's children.
While insurance is not required for daycare facilities that are operating out of a home, it is still a good idea to protect yourself.  There are many options for coverage you can take out. Some include:
General liability

Worker's compensation

Abuse and molestation
The average annual costs for commercial daycares range from $400 – $2,000. For in-home centers, the annual costs are slightly less expensive from $250 – $800. Of course, this will depend on your coverage and location. Be sure to check with an agent to ensure you have the right protection.
For Your Consideration
Once you have most of the logistics out of the way it's time for the exciting aspect! Scouting locations, brainstorming company names and sorting out potential employees are just as important as insuring and registering your facility.
However, there is a big difference. This part of the entrepreneurial process allows you to tap into your creative side. Plus, you're likely a people person and this is where you can interact with others who will potentially aid you in running your business. 

Name
Creating a name for your business is no easy task. It will be your brand, on all the promotional material and will eventually come with a reputation attached to it. You will want something that is memorable and "brandable."
Be sure that whatever name you chose is available for a website domain. In 2019, it is imperative that you have an online presence. Luckily, this is easily done and low cost. The budget for your domain name and website is likely to cost between $100 – $300.
Hiring Staff 
Every state has its own specifications as to how many adults must be present to care for a certain number of children. The number also differs for infants, toddlers, and school-aged kids.
Make sure you know your local requirements. For example, your state might require a 1 to 4 caregiver to child ration for infants with a maximum group size of 12. The size of your daycare center, the number of children you can care for and their ages will all determine your staff size.
The national average for a daycare teacher is an hourly wage of $10, but some states, like New York, for example, have an hourly wage of $13.
Along with guaranteeing you have the right size staff for your daycare, the staff should also hold appropriate licenses. This means they should have the right training (i.e. CPR and first aid, teaching, etc.) and undergo background checks.
Marketing
When starting any business marketing is absolutely worth the investment costs. Established daycares tend to rely on word of mouth and reputation for their marketing, but this takes time.
In the beginning, it would be wise to buy some advertisement. Business cards, signage, flyers, etc. all are great especially to pass around the local community or at community events.
Social media is your best tool! Join Facebook groups that give you access to your target clientele. There you can post about open houses, enrollment and get involved with local community events.
At events like these, you can pass out business cards, coupons, your website domain, Facebook group and any other sort of marketing material. Standard marketing costs about $3,000 but this depends on how much you print.
The average cost of a medium-sized daycare in New York is as follows:
Cost of Facility Types: $50,000 – 60,000
Registration: $740
License: $500+
Permits for food, fire, air/water: $400 – $4,000
Insurance for Commercial daycare: $400 – $2,000
Average Website: $500+
Staff of 5 with New York wages: $10,400/month
Marketing supplies: $3,000
Total: $65,940 – $81,140

Related Questions
Is it cheaper to start a daycare business from my home?
Yes, it is cheaper to run a daycare from your home. There are no additional rent or remodeling costs. Furnishing your home with the right safety supplies, furniture and toys/educational material will cost less as well. Additionally, you will have fewer employees to compensate.
However, keep in mind that when you have an at-home business, you cannot enroll as many children. Overall, tuition costs will likely be lower.
Is an accountant necessary, or can I use online platforms?
While an accountant or business consultant is a good idea, this is not something you need immediately. There are loads of payroll/tax software that are cheaper and easier. These are a good option when you first start out.
Are open houses worth the effort?
Open houses are a great way to market yourself and your business to the local community. Potential clients want to see the face and atmosphere of the daycare. They like to talk face to face and get a feeling for the environment. Additionally, you can make connections and possibly reach more people. This is an "old-school" but still an effective way to gain clients.
Please note: This blog post is for educational purposes only and does not constitute legal advice. Please consult a legal expert to address your specific needs.
Check out our free ebook with tips for starting your own daycare center here!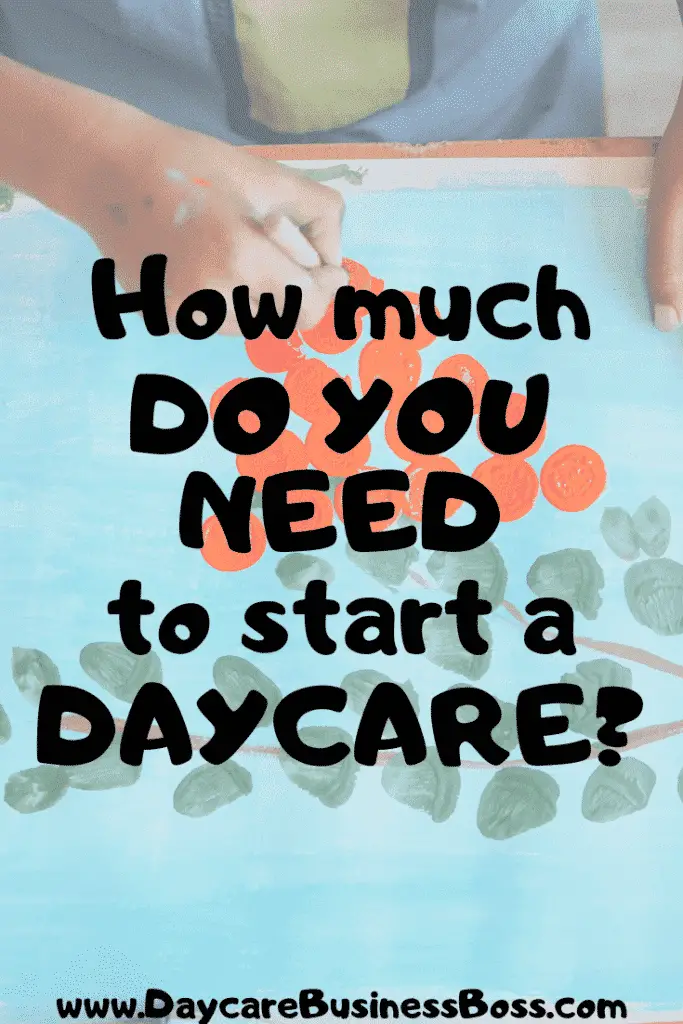 Meet Shawn Chun: Entrepreneur and Childcare Business Fan.
I'm a happy individual who happens to be an entrepreneur. I have owned several types of businesses in my life from a coffee shop to an import and export business to an online review business plus a few more and now I create online daycare business resources for those interested in starting new ventures. It's demanding work but I love it. I do it for those passionate about their business and their goals. That's why when I meet a childcare business owner, I see myself. I know how hard the struggle is to retain clients, find good employees and keep the business growing all while trying to stay competitive.
That's why I created Daycare Business Boss: I want to help childcare business owners like you build a thriving business that brings you endless joy and supports your ideal lifestyle.